Policemen. How we've started
Русская версия We got our first photos with policemen in London in front of Buckingham Palace after Changing the Guard ceremony. We asked two constables to be on photos with us, surprisingly, they did not refuse, and Nastya got a photo with a British policeman, while Victor – with a policewoman.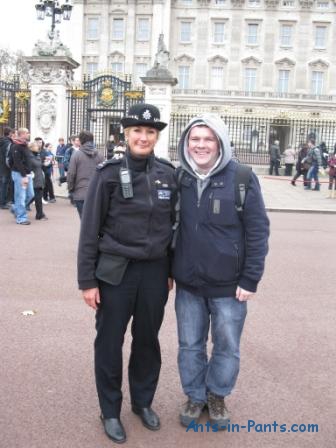 After that owr collection of such photos was growing little by little as we were getting new photos with policemen from different countries. It became a sort of a hobby. Altough an unpleasant case with Italian (to be precise, Vatican) policemen restrained this hobby for a while.

We were taking the pictures inside famous St. Peter's Basilica, and a policeman inside (we learned only later that he was a policeman as he was not wearing the uniform) decided that he is the one whom we meant to picture, not the cathedral (while we take pictures only with policemen). Vitya was violently detained and taken to police station. That was an unpleasant adventure in the home of catholic faith. After that (especially after seeing how rich this faith is in Vatican) we are a bit sceptical about all that.
We felt traumatized for quite a while, but then gradually started to ask policemen for photos again. If we were Americans we would definitely do a TV show "Take a photo with a policeman" checking the status of democracy (or women's rights or racism) in different countries because the reaction to requesting the policeman to take a picture together differs. We have already mentioned Italian-Vatican traditions (although this is a different case as we did not ask them, they just paranoically decided we want to take a picture with them).
During our visit to the US in 2013, we were surprised with how positive and smiling American policemen are. Our collection of photos was growing fast, and only one sheriff from Santa Barbara refused to take a picture. Probably even sheriffs are very rich there, so they put on airs 🙂 But the rest were extremely cute, and one in Columbus even offered his police motorcycle to Vitya for a picture. Since then we also multiplied our collection with photos from China, Malaysia, and Vietnam. Taking pictures with policemen in Vietnam was extremely tough, we found the one who agreed only for a while.
We want to thank all policemen who in spite of possible prohibitions and aftermath, agreed to take photos with us. In case you somehow got to this website, thanks again. In case the bosses see their subalterns on the photos, please, don't take any measures, as smiling and responsive policemen break stereotypes and evoke positive feelings!
Please, meet our heroes…